Please tell us the best way to contact you.
LASIK
If you are considering LASIK to correct your vision, don't you owe it to yourself to find the best LASIK surgeon?
Learn more
Get Your Free LASIK Consultation
$1,000 OFF Offer Ending Soon
Lasik Eye Surgery New Jersey
Norden Laser Eye Associates
LASIK in Ridgewood, NJ - Bergen County
Laser vision correction was first performed in the late 80's and LASIK in 1990. It was FDA-approved in 1995 in the US. Over 60 million people around the world have had LASIK performed. Today, the procedure has never been safer or more precise. The days of vision "almost as good as glasses and contacts with mild difficulties with night-vision" are over. They have been replaced with most people having better vision than with their glasses and contacts.
This includes better night vision and great-feeling eyes relieved of wearing contact lenses. Today LASIK is actually safer than wearing contact lenses! This has been accomplished through astonishing improvements in the software and hardware that drives about 50% of the procedure. The remainder depends on the LASIK surgeon and staff's ability and experience.
Why choose us
With over 30 years of experience in vision correction, Dr. Norden is one of the leading LASIK eye surgeons in the country
Learn more
What our patients say
If you want to ditch the contacts and/or the specs, this is the man to see. THANK YOU Dr. Norden.
George Christopoulous
Having LASIK was one of the best decisions I've made. As a Plastic Surgeon my vision is critical to my work and there is no one I would trust more with my vision than Dr. Norden. His expertise and technical skills are astounding. Thanks Rich.
Dr. Robert Zubowski
Dear Richard A Norden,
Please note the following: – My son's delicious smile in the morning – My wife's beautiful brown eyes at bedtime – Distinct leaves of the foliage – The flight of a golf ball – Crisp stars at night – The address on a house from my car – The face of a patient from WAY down the hall These are some of the wonderful images you have made it possible for me to see the first thing in the morning, the last thing at night, and all the minutes in between. Every one without having to feel around for my glasses, squint, or struggle with lenses.
Thank you for that wonderful gift as well as your kindness and professionalism.
Jay M. Kashin, MD
Dr. Norden is very thorough with his explanations of the procedure and addresses all of the concerns of the patient. He is fully open to questions at any time, and gives each patient plenty of time with him. He is easy to reach through the office, his cell phone, and responds back very promptly by e-mail. He is significantly experienced and qualified, and confident in his abilities. He is reassuring to the patient that there is nothing we can screw up, that it is painless and mostly computerized
Healthgrades User
"As a competitive triathlete and someone who needed corrective vision, I had always worried about losing my contact lenses during competition. I had the procedure and had fantastic results. My level of anxiety has been drastically reduced – not having to worry about losing my contact lenses helped me to swim my fastest 2.4 miles ever!"
Katherine J. Roberts, MPH, Ph. D
Professor of Anthropology, Columbia University, Triathlete
"Dr. Norden, you are a true magician. LASIK changed my life forever. In ten minutes you made my dreams come true in a totally painless procedure. I find it a true miracle to be able to play without contact lenses."
Christina Kiss
Professional Concert Pianist
"Stellar performance Dr. Norden! Having LASIK has done wonders for my career and my life. It just doesn't get any better than that."
Tony Darrow
Actor, Sopranos and Goodfellas
"After meeting Dr. Norden, I felt totally confident and secure. The results have been outstanding."
Tom Barrise
Interim Head Coach, New Jersey Nets
"I can see for the first time – 20/10 without glasses or lenses – since second grade. Fifteen minutes and not a moment of discomfort."
Patricia Sietz-Homig
Emmy Award-Winning Editor
"LASIK restored my vision like magic! The freedom I feel at work and during athletic activities is the best gift I ever received."
Jim Hahn, D.M.D.
Endodontist, New Jersey LASIK patient
I was a slave to contact lenses before Dr. Norden freed me."
Dyan Machan-Berns
Associate Editor, Fortune Magazine
"This is one of the best things that ever happened to me. My life with glasses and contact lenses will not be missed."
Kimberly Ann Pressler
Miss USA 1999
"I asked a lot of questions and did my research before choosing a doctor. Everything went exactly the way Dr. Norden said it would. "
Lee Terrell
President, Van Heusen
"I was extremely pleased with this 'life altering' procedure. The experience was pleasant and the results better than I could have ever expected."
Carol Blazejowski
WNBA Hall of Fame, US Olympian
What a pleaseure to be able to fly and travel within Italy without glasses or contact lenses! Thank you Dr. Norden — ten years and counting!
Steve Perillo
President, Perillo Tours
The great science fiction writer Arthur C. Clarke once observed that any technology, sufficiently advanced, is indistinguishable from magic. I'd like to thank Dr. Richard Norden, magician, for ridding me once and for all from eyeglasses, contacts, reading glasses, et al. For the first time in my life I can drive, read and see where I'm going without mechanical assistance of any kind. It still seems miraculous!
Thanks, Doc!
Norm Green
Dear Dr. Norden,
My wife and friends were absolutely correct when they said Lasik was a life changing procedure and that you were a fantastic doctor. I could not be happier with the process, the procedure and, most importantly, the result! From beginning to end, you were the consummate gentleman and professional. It truly was a pleasure doing business with you and your team of world class professionals.
F. John Ambrose, Jr
Managing Director & IT IB Chief Operating Officer
11 years later and still no complaints. This was without a doubt the best decision I have ever made. Being able to see without the help of glasses or contacts is truly a blessing. Thank you for returning to me the gift of sight.
Gloria Sophia Almonte
Miss New York Teen USA 2001 First Runner-Up Miss Teen USA Miss New York USA 2007
As a professional football player, I've always had to have the very best medical care; it's saved my life. When it came time for my wife, Danielle, to have LASIK, we did the research to find the very best and one name kept coming to the forefront, Dr. Richard Norden. Dr. Norden did Danielle's LASIK and he and his staff took wonderful care of her and she now sees so well, maybe better than I do! Thanks for all the great care and the results!
Mark Herzlich
Linebacker NY Giants
Patient Videos
GWP Norden Lasik Online Video Long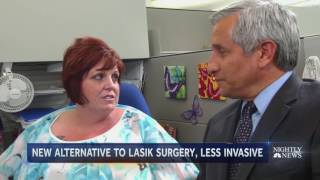 New Alternative to Lasik Surgery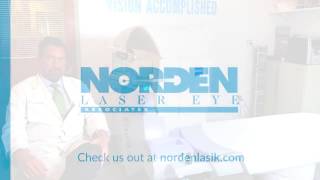 Why Norden Laser Eye Associates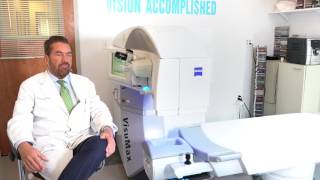 Dr. Richard Norden Explains The Visumax